Hibdon Wins Revo Reel at Military Event
Tommy Hibdon of North Little Rock, AR won the Abu Garcia Revo Big Bass Bonus after using an Abu Garcia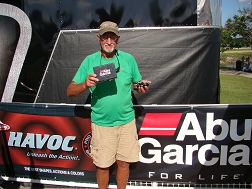 reel to catch the 6.81 pound Big Bass on Day One of the ABA Military Team Bass Tournament at Lake Eufaula on May 6, 2015. He was awarded an Abu Garcia Revo SX reel valued at $159.99.
The Abu Garcia Revo Big Bass Bonus is an incentive program that applies to selected American Bass Anglers events. The Abu Garcia Revo Big Bass Bonus program applies to all RAM Weekend Bass Series events and RAM 100% Plus Team Tour events along with each competition day of the Military Team Bass Event, Couples Series National Championship, AFT National Championship, and the Ray Scott Championship. There is no fee to participate in this program. Anglers that use any model Abu Garcia reel to catch the prevailing Big Bass at qualifying American Bass Anglers events will be awarded a new Abu Garcia Revo SX reel valued at $159.99. Abu Garcia has created an incentive program without any associated fees, registrations, or claim forms to be filled out.
About Abu Garcia: Born in in Sweden in 1921 as a watch company, Abu Garcia took this precision and introduced the Abu Record in 1941. They now produce some of today's most advanced fishing gear including the game changing Revo family of reels, including the lightest bait cast reel in the world, the MGXtreme. This trend continues with the latest series of rods including the Veritas 2.0 and the new Ike Series. Abu Garcia is the official and exclusive Rod and Reel of American Bass Anglers and all of its tours.
For more information about ABU Garcia visit your local outdoor retailer or visitwww.Abugarcia.com
About American Bass Anglers: American Bass Anglers is committed to providing low cost, close to home tournaments for the weekend angler and at the same time offer each competitor an upward path for individual angler progression. For more information about American Bass Anglers, the Weekend Bass Series, the American Fishing Tour, the American Couples Series, Military Team Bass Tournament and the 100% Plus Team Tour visitwww.americanbassanglers.com.